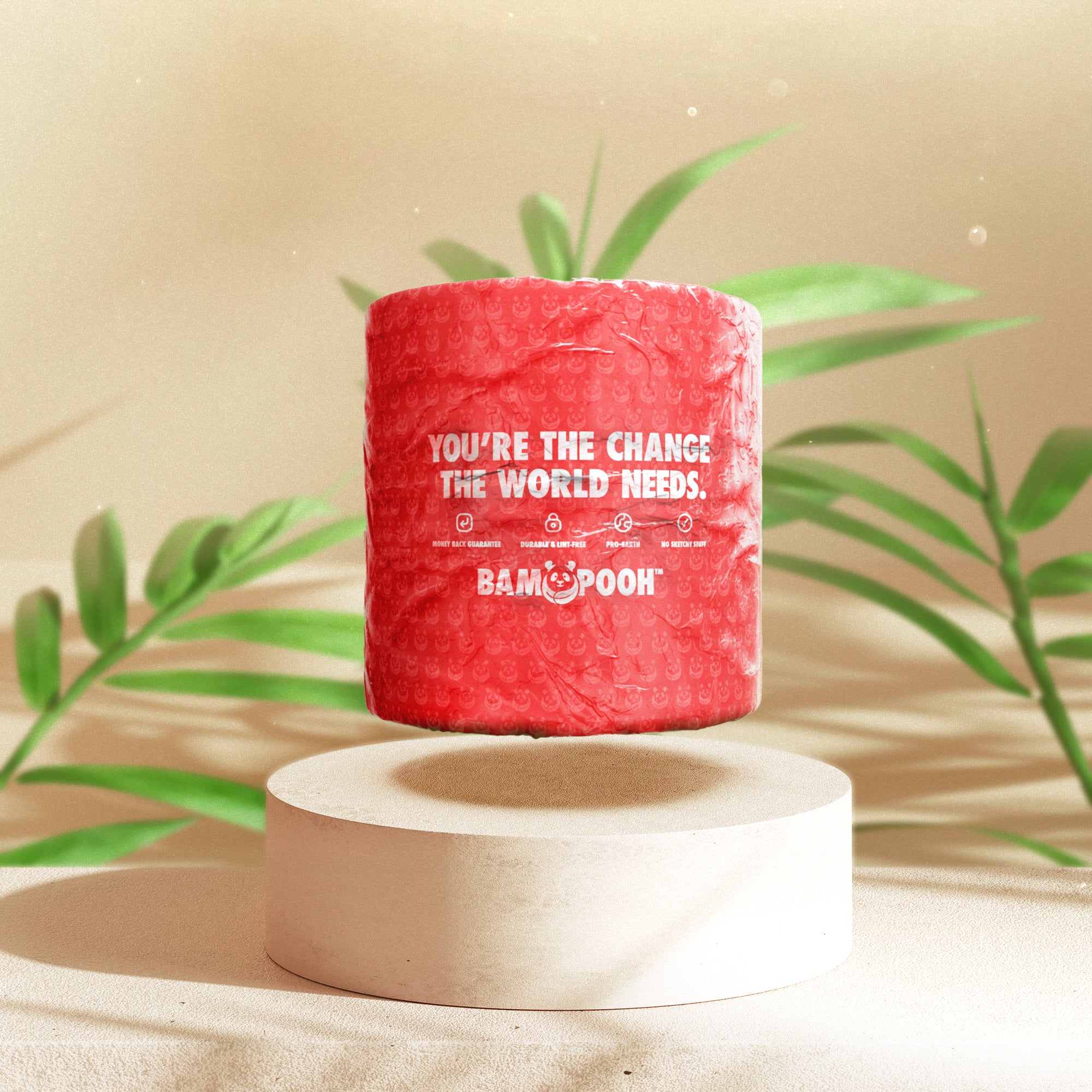 Sample Eco-Friendly 3-Ply Sugarcane Toilet Paper Roll
SKU: BP-SC3PLY-Sample
Why Bampooh? 2 Reasons: #1 & #2. Bampooh offers sugarcane toilet paper that's super soft, naturally hypoallergenic, tree and lint-free.
Free Shipping
Get it delivered by
Not satisfied with your purchase? We offer hassle free refunds.
Our TP rolls are always plastic-free, tree-free, and carbon-neutral.
All Bampooh rolls are free of BPA chemicals, dyes, and fragrances.
Your fingers will not poke through or leave behind fuzzies after wiping.
Trust Issues? Sample a roll first...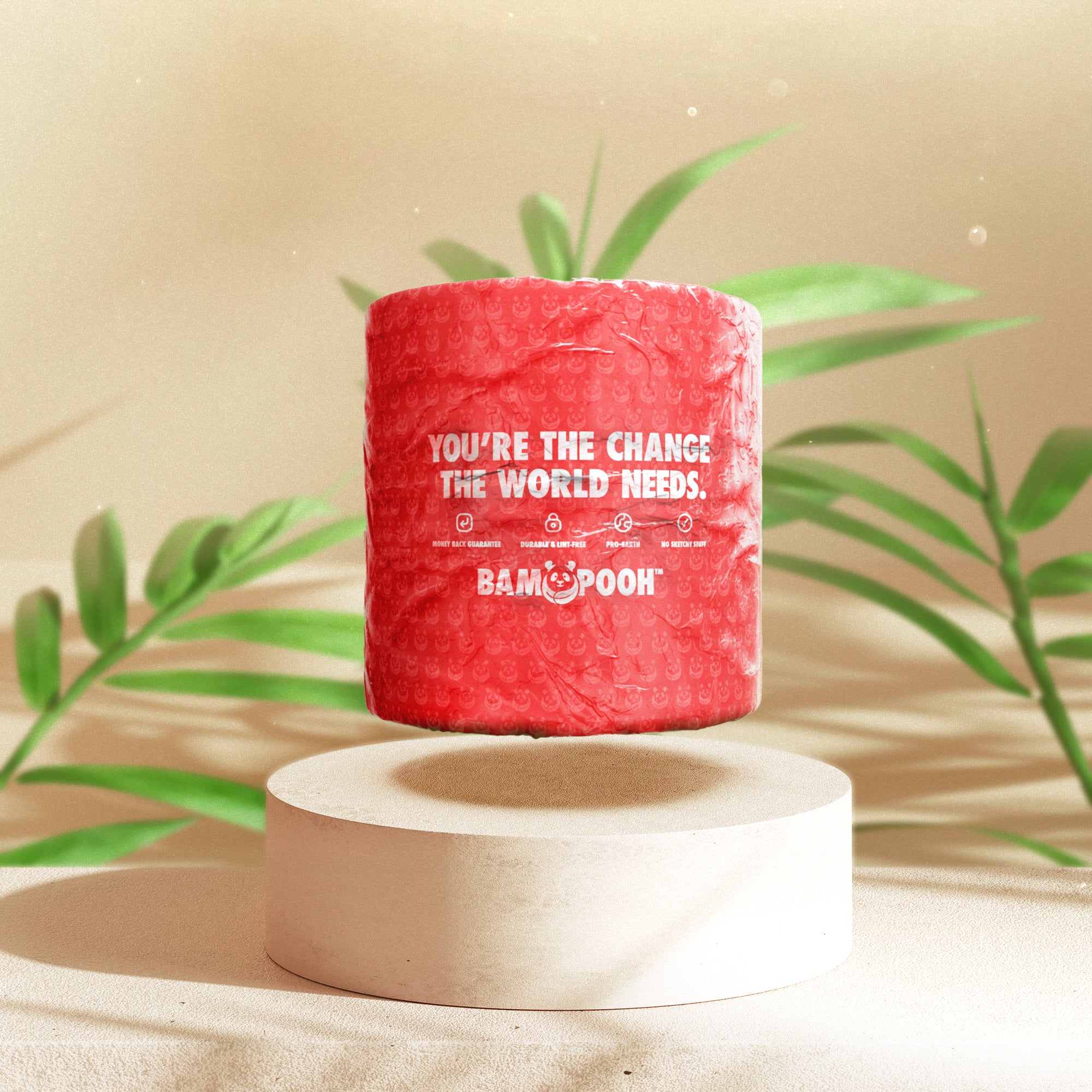 Sample Eco-Friendly 3-Ply Sugarcane Toilet Paper Roll
Sale price

$8.00
Regular price

$1.00
(/)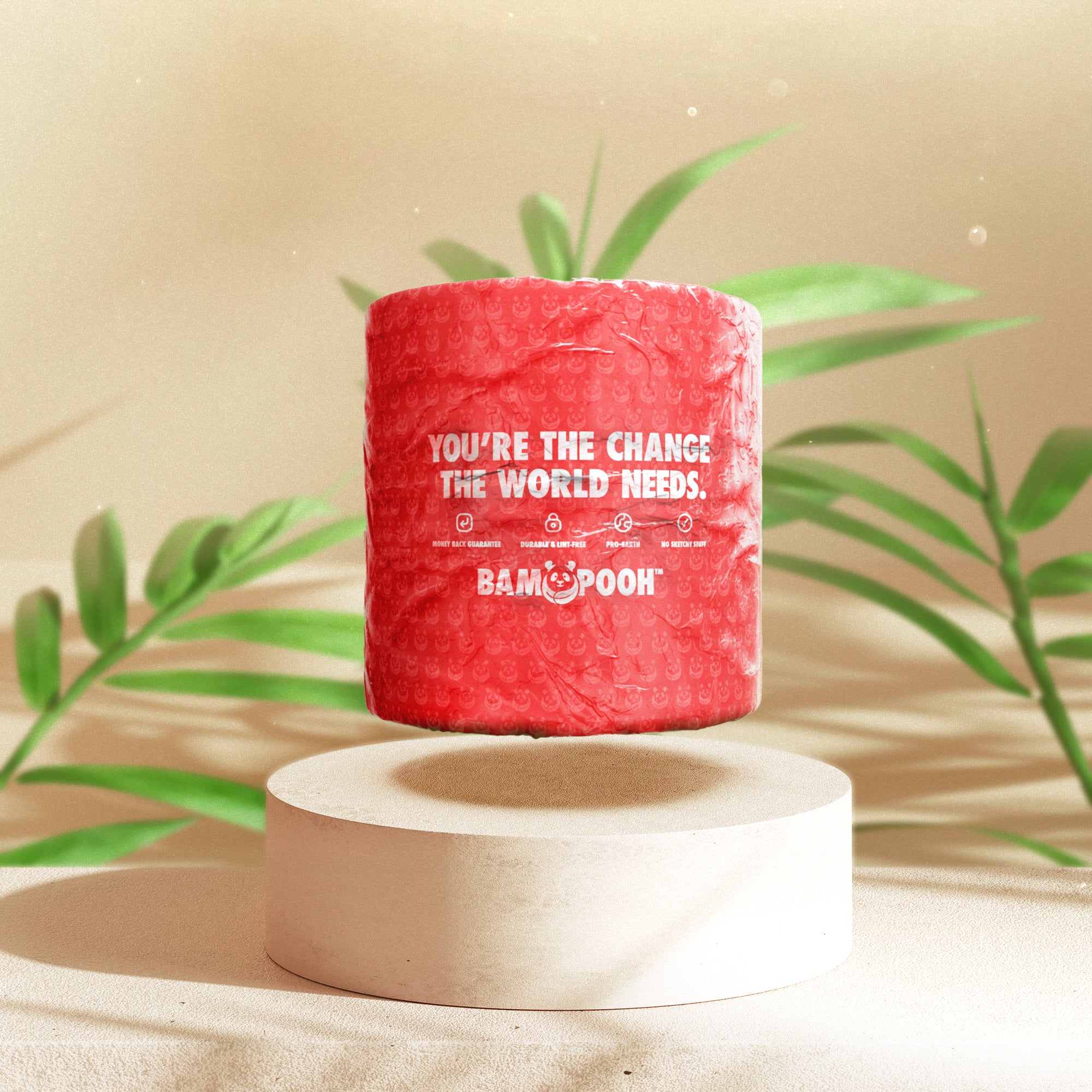 Sample Eco-Friendly 3-Ply Sugarcane Toilet Paper Roll
Have you been thinking about making the switch to sugarcane toilet paper? We understand the hesitation of jumping in and purchasing large quantities of sugarcane toilet paper if you have never used it before. We are so confident in our sugarcane toilet paper that we offer 1 sample roll for $1 for you to try out. After you have tried it out and are ready to purchase more, you can check out our various packages to purchase more and save in bulk! Sugarcane toilet paper, when compared to traditional tree toilet paper, is a more eco-friendly option that is more sustainable. The manufacturing process for sugarcane toilet paper involves turning sugarcane fibers into pulp, which is used to produce toilet paper. Many different benefits come with sugarcane compared to traditional toilet paper, such as a better environmental impact, no fragrances, and BPA-free. It is also safe for septic tanks, extremely soft, and priced competitively compared to high-quality traditional toilet paper. Each Bampooh shipment is shipped in a plastic-free, recyclable box with a carbon-neutral delivery process to ensure the most eco-friendly process available.
100% Sustainable
Tree-Free
Extremely Soft
Strong & Durable
BPA-Free
Septic Tank Friendly
Made From Biodegradable Sugarcane
Hypoallergenic
Lint-Free
100% Natural Sugarcane Pulp
Love
We are passionate about our products, and we hope you will be as well! If you are not satisfied with your Bampooh order for any reason, we believe that returns and refunds should be easy and hassle-free. 

In the event that you are not satisfied with your order and would like a refund, please email us at hello@bampooh.com within 30 days of receiving your order. We will arrange a refund for you. We would appreciate it if you could provide us with your order number (which you can find in your email confirmation) and describe the issue so that we may be able to resolve it in the future.

How Do I Return An Item?
Our team will provide you with a return shipping address label and even cover the cost of return postage. The only thing you need to do is print the return shipping address label and securely attach it to the box or packaging in which your order was delivered. Once you have completed the form, please send it by mail. Returns are not subject to restocking fees or penalties.

Please note that we can only accept products for return that are "largely unused". This means that if the product is damaged or severely used, we cannot accept the return and cannot issue a refund. 

Gift Cards
Currently, we do not offer refunds or returns on our electronic gift cards.

How Long Do Refunds Take?
Once the product is received by our warehouse, we will then issue a full refund via the initial payment method within 2-4 business days. 

Click Here to learn more about our Returns & Refunds Policy.
We keep our shipping plain and simple. All orders ship free within the contiguous United States. The shipping time is 1-4 business days via USPS First-Class Mail or UPS.

Click Here to learn more about our Shipping Policy.
27,000
Save Your Own Butt
Approximately 27,000 trees are cut down every day just to make your typical roll of toilet paper. Plus, over seven billion rolls of toilet paper are sold in just America every year; around 141 rolls per person.
3X
Sucks To Suck
Sugarcane toilet paper is super absorbent and can actually hold up to three times its weight in water. It's more absorbent than regular TP and even more absorbent than some of the recycled toilet paper counterparts! Don't worry, though, it's still septic safe. 
Why Bampooh?
Sugarcane toilet paper is absorbent. It can hold up to three times its weight in water, which makes it more absorbent than some of its recycled toilet paper counterparts. It can sustain liquid without feeling wet for a longer period of time than other types of toilet paper.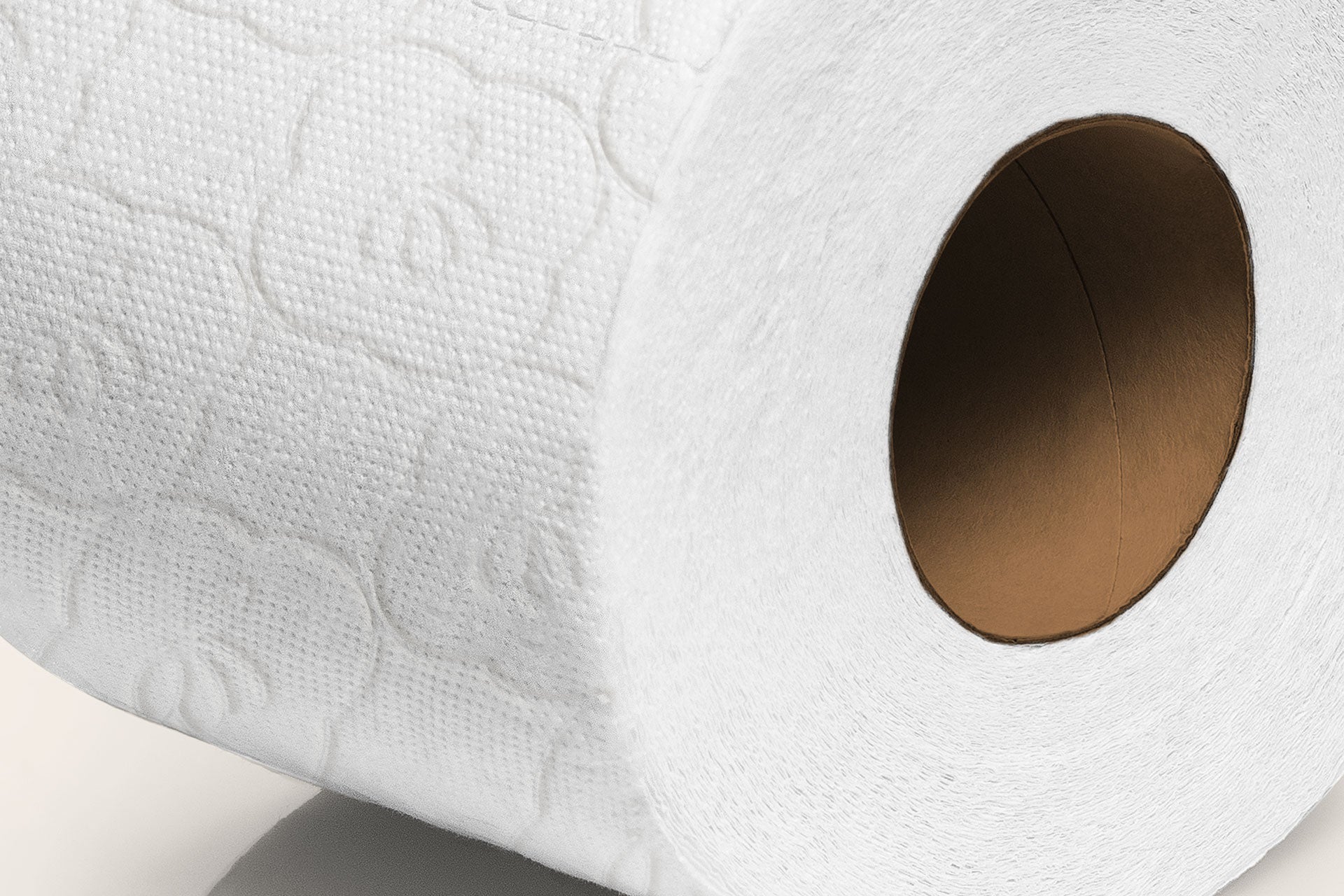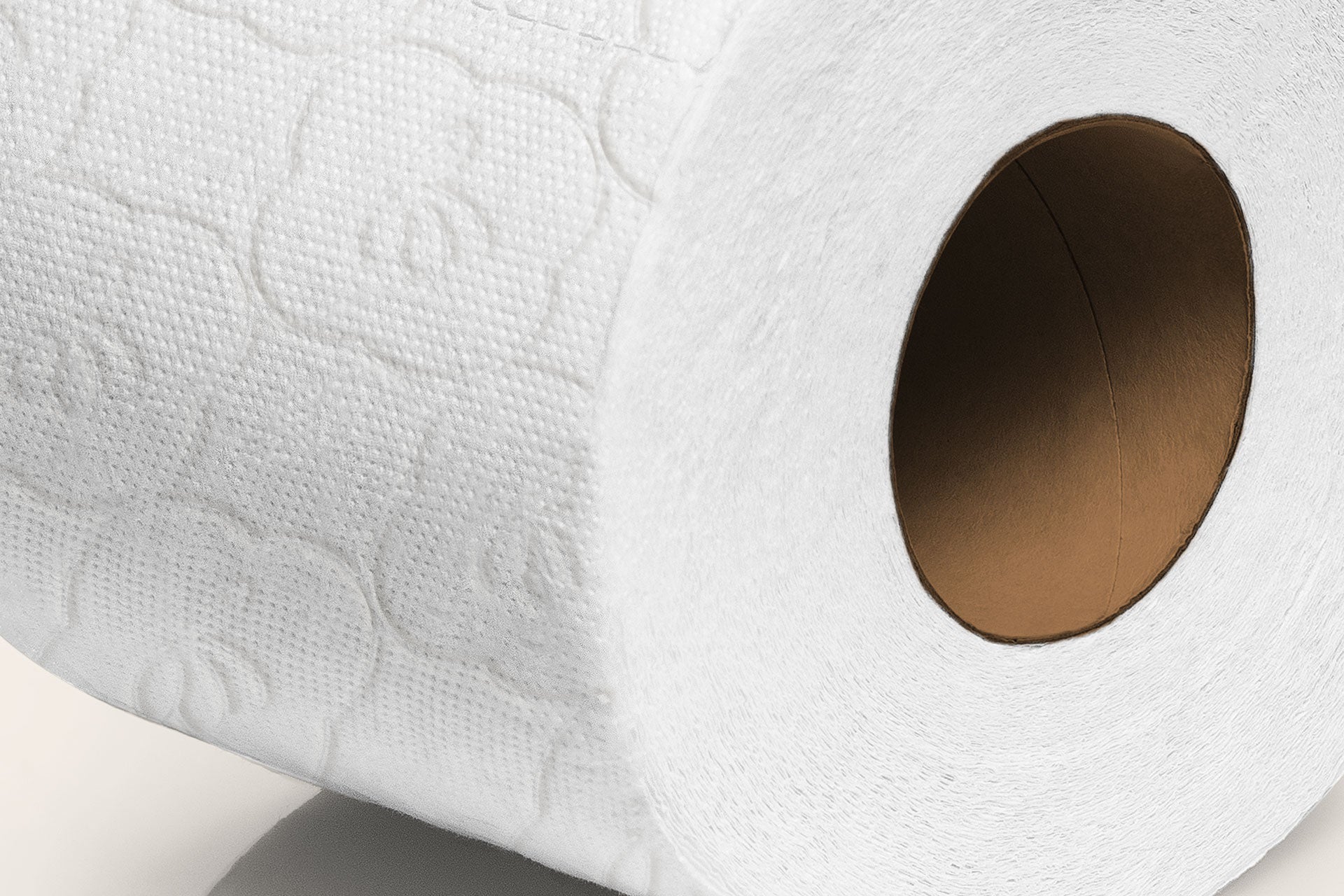 Non-irritating
Hypoallergenic and non-irritating, bamboo toilet paper is excellent for sensitive skin.
Sustainable
Made from sustainably sourced Bamboo.
Septic Friendly
Flush with confidence knowing Bampooh is sewer and septic friendly.
| | Bampooh | Generic Brand |
| --- | --- | --- |
| Plastic Wrapping | | |
| Linty | | |
| Sheets Per Roll | 310 | 200 |
| Ply Count | 3-Ply | 2-Ply |
The "Bottom" Line
Describe It To Me
Bampooh is an earth friendly company focused on providing 100% sustainable & tree-free sugarcane toilet paper.
Texture
Extremely soft and luxurious.
Absorption
Can absorb 3X its weight.
Durability
Stronger than some ordinary tp brands.
Frequently Asked Questions
Got Questions?

Our customer support is available Monday to Friday: 8am-8:30pm.
Average Response Time: 1hr
View All FAQS
Is Sugarcane Toilet Paper Durable?

Yes, of course. In terms of strength-to-weight ratio, sugarcane is one of the most durable eco-friendly materials. Sugarcane toilet paper contains sugarcane fibers with the same characteristics. Due to their strength, the paper does not tear easily. Sugarcane toilet paper typically comes in 1-ply or 2-ply varieties that are durable yet gentle on the skin. There is much greater durability in 3-ply sugarcane sheets.
Is Sugarcane Toilet Paper Rough on Skin?

No, not at all. Because sugarcane toilet paper products are tough and durable, there is this notion that they are rough on the skin. Sugarcane toilet paper, on the other hand, is incredibly soft and gentle on your skin.

Sugarcane toilet paper may be softer than regular and recycled toilet paper, depending on the brand. The manufacturing process of sugarcane toilet paper uses no harmful chemicals, so it is gentle on the skin.
Is Sugarcane Toilet Paper Better than Recycled Toilet Paper?

Sugarcane toilet paper and recycled paper are both Earth-friendly, but what's the difference between them?

Recycling toilet paper is made by taking scraps of paper or wood and using them to produce toilet paper. Sugarcane toilet paper is made from natural sugarcane pulp. Paper scraps can come from post-consumer waste such as used paper, textbooks, and paper products. It is also possible to produce them out of pre-consumer waste like wood chips and wood offcuts. 

In the end, the product is compostable. As a result, fewer trees will need to be cut down to produce recycled toilet paper, which can prevent and reduce deforestation.

The carbon footprint of recycled toilet paper is lower than that of sugarcane toilet paper, however, sugarcane toilet paper is softer and more durable.
Sugarcane Toilet Paper vs Septic Tanks

Toilet paper made from sugarcane is septic-safe. The sugarcane fibers are biodegradable and will disintegrate completely. Due to the looser bond that holds the fibers together, they do not clog pipes or block septic tanks. As a result, sugarcane toilet paper dissolves more quickly when it is wet.

Despite its softness, sugarcane toilet paper is strong. When used for wiping, it doesn't easily tear. However, when flushed down the toilet, it completely dissolves. Because our sugarcane toilet paper doesn't contain toxic chemicals like bleach, it won't disrupt the microbes in the septic tank that break down waste products further. In contrast, harsh chemicals found in traditional toilet paper can kill microbes, slowing down the breakdown process.

Our customer support is available Monday to Friday: 8am-8:30pm.
Average Response Time: 1hr
View All FAQS

Sustainability
Bampooh is committed to good business, a better environment, and the best community and customer relationships! In our business, we always strive to run our business as responsibly and ethically as possible, help preserve the environment, and make a positive impact on the communities where we operate. 
We carefully source all of our raw materials, whether they're used in our products or our packaging. Bampooh is taking every initiative to best protect our planet. That's why we never use plastic, and only use the bare minimum amount of repurposed cardboard. When it comes to our product or our packaging, we want to ensure the sustainability of our packaging.